In 1890, Vittorio I Arata created the first family company for slate extraction, processing and marketing.
Over the years he built several plants using the most advanced European construction systems. He purchased the best Italian slate deposits and, with more than 200 dependents, began exporting slate slabs for billiard tables, floors and roofing all over Europe.
His son Luigi Arata, along with his brothers, continued expanding the activity from 1920 to 1958.
Today, Vittorio III Arata carries on the family tradition.
Vittorio III Arata has been president and vice-president of some of the most important companies in the sector. In 1970 he built the premises and set up the Euroslate company, of which he is owner and president still today.
Vittorio III Arata acquired numerous slate deposits and, with his capability and experience, contributed to the realisation of some of the most modern equipment and machinery for the extraction and processing of slate used in his quarries and plants.
Today the Euroslate plant is equipped with:
modern electronic-control cutting machines, double disk, for the production of perfectly cut flooring slabs;
a modern Kuka robot for cutting and shaping flooring slabs with designs in any format, as ordered by architects and customers;
continuous polishing machines for constant, perfect and uniform slab polishing;
large calibrating machines (used for grinding billiard slabs with decimal precision) which can easily calibrate to perfection any flooring, whether polished, rough or bush-hammered.
Furthermore, new equipment which has been recently installed can "bush-hammer" flooring slabs, making them non-skid and suitable for exteriors, avoiding problems caused by the elements (rain, snow, ice, etc.).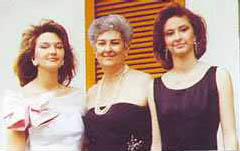 Lastly, exploiting the flaking characteristic of slate, Euroslate can supply top quality natural cleft slate slabs, taken from their own renowned Fontanabuona quarries.
All this is the result of the experience that Vittorio III Arata has acquired over the years, building 8 plants and reinvesting in the company in order to remain at the technological forefront.
Vittorio III Arata has produced millions of square metres of slate slabs for floors and the company continues to grow and expand thanks to help from his wife, Maria Teresa Chiartelli and daughters Federica and Annamaria, the fourth generation…